Getting to Leucate by car
– A9 Highway, exit 40, direction Leucate
– Road RD6009, direction Leucate
Perpignan : 30 min – 34 Km
Montpellier : 1h30 – 130 Km
Toulouse : 2h05 – 184 Km
Barcelone : 2h30 – 240 Km
Marseille : 3h00 – 290 Km
Lyon : 4h00 – 425 Km
Paris : 7h40 – 825 Km
Getting to Leucate by plane
The Mondial du Vent and Air France are joining forces to give you discounts for your visit to the event. Benefit from reductions of up to -47%* on public prices.
Event code : 38274AF
* subject to conditions
Perpignan-Rivesaltes International Airport is 35 km from the Mondial du Vent. Girona (150 kms) and Barcelona (240 kms) are also easily accessible.
Getting to Leucate by train
The stations of Leucate La Franqui, Narbonne and Perpignan are ideally located and served to get to the Mondial du Vent.
The Leucate La Franqui station is located 1 km from the Village de la Glisse. It is served by TER from Narbonne (36 km from Leucate) and from the TGV station of Perpignan (37 km from Leucate).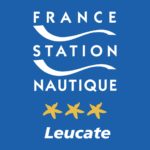 To find your accommodation for the Mondial du Vent, visit the Leucate Tourist Office website at: www.tourisme-leucate.fr